Fitok fittings with cutting rings connectors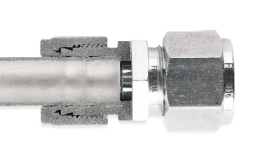 The quality of the fittings with cutting rings thanks to excellent Fitok pipe couplings to run their critical operating conditions, which are nuclear power plants, the oil industry, the chemical industry, the pharmaceutical industry, semiconductor manufacturing, or support them. High pressure and high temperature mediums for delivering seamless stainless steel tube can be applied widely in these couplings in many areas of the industry. The connectors are different fittings with cutting rings, both measuring impulzusvezetékeinek, the design of the műszerlevegő networks, analytical measurements as well as the development of the sampling lines.
Material: AISI 316 l, (on request can be assigned different material quality: eg. Alloy 400-C276, Alloy 600 Alloy, brass)
Pipe size range (outer diameter): 2-50 mm or 1/16 "-2″
Operating temperature range:-AISI 316 198 … + 425 ° c
Operating pressure: the maximum permissible operating pressure is in fact to a large extent depends on the quality of the tube, and the temperature is falvastagságától
Fittings with cutting rings for mounting the Fitok pipe couplings do not need special tools or other csőperemező Vivek r. or hard-to-mobile equipment. A wrench set, a few minutes learning and paying attention enough to carry out the proper installation.
CM ML NS, CM-ML-RS

Straight couplings with external thread, metric pipe
Stainless steel, 316 l SS

Order number
External pipe diameter
External thread
Equivalent by SDOs
SS-CM-ML6-NS2
6
NPT 1/8 "
M6MSC1/8N-316
6mo-1-2
SS-CM-ML6-RS4
6
G 1/4 "
M6MSC1/4R-316
1-6mo-4RS
SS-ML6-NS4-CM
6
NPT 1/4 "
M6MSC1/4N-316
6mo-1-4
SS-CM-ML6-NS6
6
NPT 3/8 "
M6MSC3/8N-316
6mo-1-6
SS-CM-ML6-RS8
6
G 1/2 "
M6MSC1/2R-316
1-6mo-8RS
SS-CM-ML6-NS8
6
NPT 1/2 "
M6MSC1/2N-316
6mo-1-8
Order number
External pipe diameter
External thread
Equivalent by SDOs
SS-CM-ML8-NS2
8
NPT 1/8 "
M8MSC1/8N-316
8mo-1-2
SS-CM-ML8-RS4
8
G1/4 "
M8MSC1/4R-316
1-8mo-4RS
SS-CM-ML8-NS4
8
NPT1/4 "
M8MSC1/4N-316
1-4-8mo
SS-CM-ML8-RS6
8
G3/8 "
M8MSC3/8R-316
1-8mo-6RS
SS-CM-ML8-NS6
8
NPT3/8 "
M8MSC3/8N-316
1-6-8mo
SS-CM-ML8-NS8
8
NPT1/2 "
M8MSC1/2N-316
8mo-1-8
Order number
External pipe diameter
External thread
Equivalent by SDOs
SS-CM Ml10.d-NS2
10
NPT1/8 "
M10MSC1/8N-316
10MO-1-2
SS-CM Ml10.d-RS4
10
G1/4 "
M10MSC1/4R-316
10MO1-4RS
SS-CM Ml10.d-NS4
10
NPT1/4 "
M10MSC1/4N-316
10MO-1-4
SS-CM Ml10.d-NS6
10
NPT3/8 "
M10MSC3/8N-316
10MO-1-6
SS-CM Ml10.d-RS8
10
G1/2 "
M10MSC1/2R-316
10MO-1-8RS
SS-CM Ml10.d-NS8
10
NPT1/2 "
M10MSC1/2N-316
10MO-1-8
Order number
External pipe diameter
External thread
Equivalent by SDOs
SS-CM-ML12-NS2
12
NPT1/8 "
M12MSC1/8N-316
12MO-1-2
SS-CM-ML12-RS4
12
G1/4 "
M12MSC1/4R-316
12MO-1-4RS
SS-CM-ML12-NS4
12
NPT1/4 "
M12MSC1/4N-316
12MO-1-4
SS-CM-ML12-NS6
12
NPT3/8 "
M12MSC3/8N-316
1-6-12MO
SS-CM-ML12-RS8
12
G1/2 "
M12MSC1/2R-316
12MO-1-8RS
SS-ML12-NS8 CM
12
NPT1/2 "
M12MSC1/2N-316
12MO-1-8
LM-NS, LM-RT

Elbow couplings with external thread, metric pipe
Stainless steel, 316 l SS

Order number
External pipe diameter
External thread
Equivalent by SDOs
SS-LM-ML6-RT2
6
R1/8 "
M6MSEL1/8 k-316
6mo-2-2RT
SS-LM-ML6-NS2
6
NPT1/8 "
M6MSEL1/8N-316
6mo-2-2
SS-LM-ML6-RT4
6
R1/4 "
M6MSEL1/4 k-316
6mo-2-4RT
SS-LM-ML6-NS4
6
NPT1/4 "
M6MSEL1/4N-316
6mo-2-4
SS-LM-ML6-NS8
6
NPT1/2 "
M6MSEL1/2N-316
6mo-2-8
SS-LM-ML8-NS4
8
NPT1/4 "
M8MSC1/4N-316
8mo-2-4
SS-LM-ML8-NS8
8
NPT1/2 "
M8MSC1/2N-316
8mo-2-8
SS-LM-Ml10.d-NS4
10
NPT1/4 "
M10MSEL1/4N-316
10MO-2-4
SS-LM-Ml10.d-NS8
10
NPT1/2 "
M10MSEL1/2N-316
10MO-2-8
SS-LM-ML12-NS4
12
NPT1/4 "
M12MSEL1/4N-316
12MO-2-4
SS-LM-ML12-NS8
12
NPT1/2 "
M12MSEL1/2N-316
12MO-2-8
CF-CF-NS, RG

Straight couplings with internal thread, metric pipe
Stainless steel, 316 l SS

Order number
External pipe diameter
External thread
Equivalent by SDOs
SS-ML6-CF-RG4
6
G1/4 "
M6GC1/4R-316
7-8mo 4RG
SS-CF-ML6-NS4
6
NPT1/4 "
M6FSC1/4N-316
6mo-7-4
SS-ML6-CF-NS8
6
NPT1/2 "
M6FSC1/2N-316
6mo-7-8
SS-CF-ML8-NS4
8
NPT1/4 "
M8FSC1/4N-316
4-7-8mo
SS-CF-ML8-RG4
8
G1/4 "
SS-CF-ML8-NS8
8
NPT1/2 "
M8FSC1/2N-316
8mo-7-8
SS-CF-Ml10.d-NS4
10
NPT1/4 "
M10FSC1/4N-316
10MO-7-4
SS-CF-Ml10.d-RG6
10
G3/8 "
SS-CF-Ml10.d-NS8
10
NPT1/2 "
M10FSC1/2N-316
10MO-7-8
SS-CF-ML12-NS4
12
NPT1/4 "
M12FSC1/4N-316
12MO-7-4
SS-CF-ML12-RG4
12
G1/4 "
SS-CF-ML12-NS8
12
NPT1/2 "
M12FSC1/2N-316
12MO-7-8
SS-CF-ML12-RG8
12
G1/2 "
STBF

T-piece in the middle with internal thread, metric pipe
Stainless steel, 316 l SS

Order number
External pipe diameter
External thread
Equivalent by SDOs
SS-ML6-NS4-TTF
6
NPT1/4 "
M6FBT1/4N-316
6mo-3-4TTF
SS-TTF-ML8-NS4
8
NPT1/4 "
M8FBT1/4N-316
8mo-3-4TTF
SS-TTF-Ml10.d-NS4
10
NPT1/4 "
M10FBT1/4N-316
3-10MO-TTF
SS-TTF-ML12-NS4
12
NPT1/4 "
M12FBT1/4N-316
12MO-3-4TTF
SS-TTF-ML12-NS8
12
NPT1/2 "
M12FBT1/2N-316
12MO-3-8TTF
U

Straight splices metric tube
Stainless steel, 316 l SS

Order number
External pipe diameter
Equivalent by SDOs
SS-U-ML6
6
SCM6
6mo-6
SS-U-ML8
8
SCM8
8mo-6
SS-U-Ml10.d
10
SCM10
10MO-6
SS-U-ML12
12
SCM12
6-12MO
LU

Elbow extensions metric tube
Stainless steel, 316 l SS

Order number
External pipe diameter
Equivalent by SDOs
SS-LU-ML6
6
EEM6
6mo-9
SS-LU-ML8
8
EEM8
8mo-9
SS-LU-Ml10.d
10
EEM10
10MO-9
SS-LU-ML12
12
EEM12
12MO-9
TTT

T-fittings fittings with cutting rings, metric pipe
Stainless steel, 316 l SS

Order number
External pipe diameter
Equivalent by SDOs
SS-STS-ML6
6-6-6
ETM6
6mo-3
SS-STS-ML8
8-8-8
ETM8
8mo-3
SS-STS-Ml10.d
10-10-10
ETM10
10MO-3
SS-STS-ML12
12-12-12
ETM12
12MO-3
Reducing T-piece, the middle in fitting smaller
SS-STS-ML12-ML12-ML6
12-6-12
SS-STS-ML12-ML12-ML8
12-8-12
SS-STS-ML12-ML12-Ml10.d
12-10-12
(C)

Cross fittings, metric tube fittings with cutting rings
Stainless steel, 316 l SS

Order number
External pipe diameter
Equivalent by SDOs
SS-C-ML6
6
ECRM6
6mo-4
SS-C-ML8
8
ECRM8
4-8mo
SS-C-Ml10.d
10
ECRM10
4-10MO
SS-C-ML12
12
ECRM12
12MO-4
SS-FL4
1/4 "
4ECR4
400-4
SS-C-FL8 Are
1/2 "
8ECR8
810-4
U

Straight reducer fittings fittings with cutting rings,
metric pipe, stainless steel, 316 l SS

Order number
Tube 1. outer diameter
Tube 2. outer diameter
Equivalent by SDOs
SS-U-ML6-FL4
6
1/4 "
M6CU4
6mo-6-4
SS-U-ML8-ML6
8
6
M8RUM6
6-8mo-6 m
SS-U-ML8-FL6 Flowmeter
8
3/8 "
M8CU6
8mo-6-6
SS-U-Ml10.d-ML6
10
6
M10RUM6
10MO-6-6 m
SS-U-Ml10.d-ML8
10
8
M10RUM8
10MO-6-8 m
SS-U-ML12-ML6
12
6
M12RUM6
6-12MO-6 m
SS-U-ML12-ML8
12
8
M12RUM8
12MO-6-8 m
SS-U-ML12-Ml10.d
12
10
M12RUM10
12MO-6-10 m
BU

Bulkhead fittings fittings with cutting rings,
metric pipe, stainless steel, 316 l SS

Order number
External pipe diameter
Equivalent by SDOs
SS-BU-ML6
6
BCM6
6mo-61
SS-BU-ML8
8
BCM8
8mo-61
SS-BU-Ml10.d
10
BCM10
10MO-61
SS-BU-ML12
12
BCM12
12MO-61
TP

Blanking Plug for metric tube fittings with cutting rings connectors
Stainless steel, 316 l SS

Order number
External pipe diameter
Equivalent by SDOs
SS-TP-ML6
6
BLPM6
6mo-P
SS-TP-ML8
8
BLPM8
8mo-P
SS-TP-Ml10.d
10
BLPM10
10MO-P
SS-TP-ML12
12
BLPM12
12MO-P
TC

Fittings with cutting rings, metric tube end caps
Stainless steel, 316 l SS

Order number
External pipe diameter
Equivalent by SDOs
SS-TC-ML6
6
BLENM6
6mo-C
SS-TC-ML8
8
BLENM8
8mo-C
SS-TC-Ml10.d
10
BLENM10
10MO-C
SS-TC-ML12
12
BLENM12
12MO-C
FF, RF

Front and rear vágógyűrűk metric pipe
Stainless steel, 316 l SS

Order number
External pipe diameter
Equivalent by SDOs
First vágógyűrűk
SS-FF-ML6
6
FFM6
6M3-1
SS-FF-ML8
8
FFM8
8 m 3-1
SS-FF-Ml10.d
10
FFM10
10M3-1
SS-FF-ML12
12
FFM12
12M3-1
Rear vágógyűrűk
SS-RF-ML6
6
BFM6
6M4-1
SS-RF-ML8
8
BFM8
8M4-1
SS-RF-Ml10.d
10
BFM10
10M4-1
SS-RF-ML12
12
BFM12
12M4-1
(N)

Union nuts metric tube
Stainless steel, 316 l SS

Order number
External pipe diameter
Equivalent by SDOs
SS-N-ML6
6
Num6
6 m 2-1
SS-N-ML8
8
NUM8
8M2-1
SS-N-Ml10.d
10
NUM10
10 m 2-1
SS-N-ML12
12
NUM12
12 m 2-1