Solenoid valves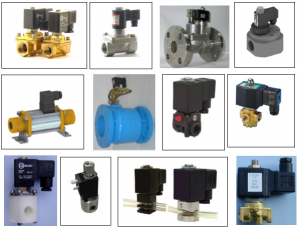 The industry is now a lot of technology, where there are large numbers of automated valves. A wide variety of media flow in the pipes. The working pressure, the temperature and the chemical effects at times in extreme circumstances do the valves. Occur is chemically neutral and aggressive media, liquids and gases, high temperature and pressure steam or vacuum. There is often a need for quick-acting, reliable, fully automated, but cheap open/close valves and directional control-and vezérlőszelepekre.
The benefit of their electromagnetic valves are widely used in industrial automation:
Relatively simple structure
Large size range
Few wear parts, low maintenance costs
Low power consumption in operation
Fast operation, short opening and closing times
High switching frequency
Compact installation dimensions
Favourable price
Solenoid valve in our nearly 30 units of:
utú 2/2 normally closed (NC) and the alaphelzetben open (NO) and latching solenoid valves
Direktvezérelt (constraint-driven) 0bar operate from, solenoid valves, there is no need to előnyomásra
Forced szervovezérelt from solenoid valves operate 0bar, no need for előnyomásra
Membránvezérelt (servo-controlled) solenoid valves is 0.3-0.5 bar minimum pressure is required to operate
Solenoid valves in different media: water, steam, natural gas, compressed air, vacuum, oil, etc.
Heating, gas valves and solenoid valves zónaszelepek building purposes
3/2 NC, NO, and universal utú
5/2, 5/3 utú thread and NAMUR control valves
Solenoid valves with threaded connection 1/8 "-3″
Flange-mounted solenoid valves up to DN 250
Pilot valve-controlled solenoid valves in sizes up to the special cylinder designs DN300
High pressure and
High-temperature applications up to + notebook, as well as
Low temperature, cryogenic fluids-196 ° C
Solenoid valves for use in potentially explosive atmospheres ATEX certified
Brass, bronze, stainless steel, acid-proof solenoid valve
Házú plastic, PVC, PTFE, Nylon, Delrin, polypropylene MMF SHARES/UNITS, solenoid valves
NBR, EPDM, FKM (Viton ®) seals, PTFE, Silicon or membranes
Our suppliers include manufacturers tisztelhetünk, who is certified by the presence of several decades is a good choice. Based on their many years of production and strict quality control system due to the high technical requirements, is a natural for them.